The thoroughly revised and updated 3rd Edition of Objective Biology Chapter-wise MCQ for NEET/AIIMS is a collection of carefully selected MCQ's for medical entrance exams. The book follows the pattern and flow of Class 11 and 12 syllabi as prescribed by NCERT. The unique feature of the new edition is the inclusion of new exam-centric questions and Marking of questions into critical thinking, tough nut, and tricky.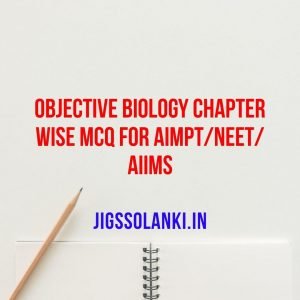 Objective Biology Chapter-wise MCQ book contains 'chapter-wise MCQs,' which covers all the important concepts and applications required to crack the mentioned exams. The book includes 38 chapters covering a total of around 3800 MCQs with solutions. The solutions to the questions are provided immediately after the Chapter. The solutions have been prepared in a manner that a student can easily understand them. This is an ideal book to practice and revises the complete syllabus of the mentioned exams. The book will help to give finishing touches to your preparation for each Chapter. Free Download Objective Biology Chapter-wise MCQ.
Starting preparation for NEET since Class 11 is as essential as the preparation for the board exams. The NEET syllabus carries equal distribution of questions from both Class 11 as well as Class 12. Chemistry and Physics are based on formula learning, one will be able to solve the problem, and some won't, but in Biology, there is less chance of applications. Free Download Objective Biology Chapter-wise MCQ.
It includes an ample number of questions and explanations to give aspirants an idea of the Question being framed in these above-mentioned examinations. Each chapter from the books contains Objective Question presented in two levels, 1st Level Caters to the Concept Building and 2nd Level Caters to Application Based Questions.
BOOK NAME – OBJECTIVE BIOLOGY CHAPTER-WISE MCQ
AUTHOR – DISHA PUBLICATION
SIZE – 4.6MB
PAGES – 327
MCQs or multiple choice questions is one of the best ways to test a student's comprehension of a concept. Our subject-matter experts have prepared these Biology MCQs based on current trends and practices. Furthermore, the questions presented will be beneficial for competitive examinations as well.
Table of Contents:
Diversity in the Living World
Biological Classification
Plant Kingdom
Animal Kingdom
Morphology of Flowering Plants
Anatomy of Flowering Plants
Structural Organization in Animals
Cell: The Unit of Life
Biomolecules
Cell Cycle and Cell Division
Transportin Plants
Mineral Nutrition
Photosynthesis
Respiration in Plants
Plant Growth and Development
Digesation and Absorption
Breathing and Exchange of Gases
Body Fluids and Circulations
Excretory Products and their Elimination
Locomotion and Movement
Neuralcontrolandco – ordination
Chemical Coordination and Regulation
Reproduction in Organisms
sexual Reproduction in Flowering Plants
Human Reproduction
Reproductive Health
Heredity and variation
Molecular Basis of Inheritance
Evolution
Health and Disease
Strategies for Enhancement in Food Production
Microbes in Human Welfare
Biotechnology: Principles and Processes
Biotechnology and its Applications
organisms and Environment
Ecosystem
Biodiversity and its Conservation
Environmental issues
Biology (Botany and Zoology)
Botany and Zoology are the core of the AIIMS examination. To score well in the section, you need to cover the topics under each head comprehensively.
Focus on Plant Nutrition and mechanism
Study schematic diagrams carefully to understand the mechanism
Take the section-wise test to assess your conceptual clarity
Pay more attention to important and marks fetching areas like Plant Physiology, Human Physiology, Biomolecules, Cell structure, Reproduction, Genetics & Evolution, Biotechnology, Ecology, Biodiversity, Diversity in the living world.
A total of 180 questions are asked in the NEET exam, out of which the Biology (Zoology + Botany) section consists of 90 questions for 360 marks. However, scoring 340+ in NEET Biology is not a difficult task.
One should hold strength in the Botany and Zoology section, which comprises 90 questions i.e., 360 marks out of 720. The fundamental problem faced by the students is to remember the examples of different animal and plant kingdom, botanical name, various enzymes, various processes, as well as the exceptions.
To help you deal with the situation, below, we have shared some important books, time table, study tips for NEET Biology along with the weightage of every chapter for the NEET 2020 exam.
Important Tips to Remember
Key points & tips during the time of the exam:
First of all, read the questions carefully to answer the questions you find the easiest and of which you are sure and then proceed to other questions and fill the OMR side by side.
Never do the guesswork; it will eventually degrade your scores and prove to be dangerous for you.
Keep calm, don't be panic during the examination. It will hamper your performance.
Never allocate the time as 1 hour for each section of PCB, go as fast as you can but be sure for the answers you are opting by maintaining the time limit.
Be positive, and you will surely get success.
Tips & Tricks to crack the NEET (AIPMT) exam:
Exemplary, published by NCERT, is concise and has scientifically designed courseware. It is highly recommended for all medical aspirants.
For practice problems, one must check out NEET/AIPMT past year papers.
Start with other books once you have finished with the NCERT syllabus or only for reference on topics that you fail to understand from your base book.
You can also solve practice problems from other books after each chapter to make sure that you have mastered the concept or topic you have just studied.
SOURCE:- GOOGLE DRIVE
DISCLAIMER: jigssolanki.In does no longer owns this book neither created nor scanned. We simply offer the hyperlink already to be had on the internet. If any manner it violates the law or has any troubles, then kindly mail us: jigssolanki1995@gmail.Com or Contact Us for this(hyperlink removal).
We don't aid piracy; this duplicate grows to supply for university youngsters who're financially harmful but deserve greater to examine. Thank you.
Objective Physics Chapter-wise MCQ for JEE Main/BITSAT/NEET/AIIMS
Biology Complete Solution to NEET/AIIMS/JIPMER
NEET Guide for Physics, Chemistry & Biology
DR ALI OBJECTIVE BIOLOGY VOLUME 1 & 2
ACE BIOLOGY FOR AIMPT/NEET EXAMINATION VOLUME 1