JEE MAIN now considered being one of the most robust papers. To pursue becoming an Engineer, applicants must have a clear concept, strong necessary foundation, and sheer practice of each subject to the touch the given benchmark. "Test Drive for JEE MAIN 2020" provides the entire online and offline assessment & practice package for the preparation of JEE MAIN EXAM. The study material contained within the book is as per the newest syllabus.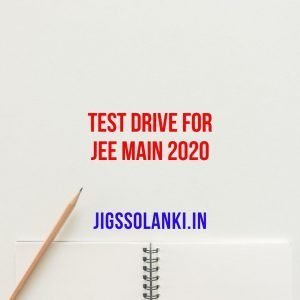 Moreover, the entire book split into 3 Stages: 1st Stage: PREP ANALYSIS STAGE: that consists of 72 Unit Tests (Physics, Chemistry, Mathematics), which help students to know the paper format of every subject. 2nd Stage: THE ACQUAINTANCE STAGE: this stage provides the 15 Practice Sets that help aspirants to form them acquaintance with the trend and, therefore, the difficulty level of the paper. 3rd Stage: RESULT PREDICTION STAGE: this stage provides the 6 Previous Years' papers for thorough practice leaving no stones untouched. Solutions provided for the questions are authentic, have a conceptual approach, and well explained in detail. This book also gives free online practice papers that provide a great feel for the examination. This book will assist you in attaining more within the exam even as within the academics if a thorough practice done from this book.
Mock Tests are said to be equally important while preparing for any entrance examination. JEE Main & Advanced Experts and Toppers regularly advise requiring the help of a good number of Practice Sets. According to them, it promotes exam awareness among aspirants and encourages them to rectify their weaknesses and build up their strength. The Whole New Test Drive for JEE MAIN 2019 15 Practice Sets has been designed to assist aspirants to understand the pattern, syllabus, essential questions, and their weightage of the upcoming exam. It is divided into three stages, namely Prep Analysis Stage, Acquaintance Stage, and Result Prediction Stage and contains 72 Units Tests, 15 Practice Sets, and 5 Solved Paper of previous years' Questions (2013-2018) respectively. This unique arrangement of step-by-step Practice materials empowers the systematic study and subsequently directs aspirants to yield good results. All tests are freely available for Online Practice as well and facilitate greater exposure to both online and offline tests. Approachable and fully resourceful, this hands-on Practice Workbook is all you need for quicker and faster preparation.
BOOK NAME – TEST DRIVE FOR JEE MAIN 2020
AUTHOR – ARIHANT PUBLICATION
SIZE – 36.2MB
PAGES – 544
Every year lakhs of students appear for the JEE Main Exam to pursue their dream of becoming an "Engineer." To qualify this exam, students need to have clear concepts, the necessary strong foundation of the themes, and thorough practice. "TEST DRIVE FOR JEE MAIN 2020" is that the only complete assessment and Practice package for the JEE MAIN Exam. This book is ready as per the newest of the syllabus. It provides 55 Unit Tests for all three sections: Physics, Chemistry, and Mathematics, to offer the great feel of the examination. 15 Practice Tests which are strictly supported the Latest Examination Pattern and 6 Years' Papers, the solutions provided for the questions are authentic and having a conceptual approach for the entire practice. This book will assist you in attaining more within the exam also as within the academics if the exact method done from this book.
TABLE OF CONTENT
Prep Analysis Stage (Unit Tests)
The Acquaintance Stage (Practice Sets)
Result Prediction Stage (Previous Years Papers)
Online JEE Main Solved Paper 2019
SOURCE:- Clearjee
BE AWARE: jigssolanki.In does no longer owns this book neither created nor scanned. We simply offer the hyperlink already to be had on the internet. If any manner it violates the law or has any troubles, then kindly mail us: jigssolanki1995@gmail.Com or Contact Us for this(hyperlink removal).
We don't aid piracy; this duplicate grows to supplied for university youngsters who're financially bad but deserve greater to examine. Thank you.




Download Your Book




MATHEMATICS EBOOK FOR JEE AND OTHER ENGINEERING ENTRANCE EXAMS BY JAGRAN JOSH
PHYSICS 30 DAYS PREPARATION A REVISION CUM CRASH COURSE IN FOR JEE-NEET
CHEMISTRY 30 DAYS PREPARATION A REVISION CUM CRASH COURSE IN FOR JEE-NEET
MATHS READY RECKONER FOR JEE AND OTHER ENTRANCE EXAM
BIOLOGY 30 DAYS PREPARATION A REVISION CUM CRASH COURSE IN FOR JEE-NEET
JEE-NEET PAPER SET WITH SOLUTION BY SRI CHAITANYA INSTITUTE
CHEMISTRY IIT JEE-NEET REVISION PACKAGE BOOK