Problems in Physical Chemistry for JEE Main & Advanced by Narendra Avasthi is a comprehensive book for students who are applying for the JEE Main and Advanced examinations. The book discusses in detail Chemical Bonding (Basic) and Chemical Bonding(Advanced) in separate chapters.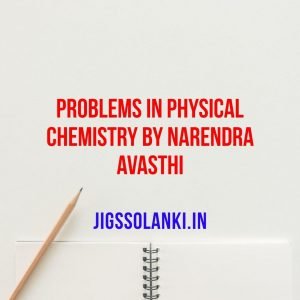 It is a matter of great pleasure for me to present the tenth edition of "Problems in Physical Chemistry" for JEE Main & Advanced Entrance Exams aspirants. This book is an outcome of the experience gained during my interaction with the students going to appear in the JEE Engineering Competition Exams. The hours spent with them raised an idea to present the concepts of Physical Chemistry through a problematic approach. Hence, the major objective of writing this book is to provide relevant parts of the concepts of this broad subject of Physical Chemistry. The problems are framed in such a manner that they touch the required depth. Free Download Problems in Physical Chemistry by Narendra Avasthi.
Each chapter in the Problems in Physical Chemistry Book is divided into three levels of problems. The level of problems given in this book is mostly required for JEE Main & Advanced aspirants. The objective behind this division is that students may revise the different types of problems being asked in Engineering Competition Entrance Exams such as JEE Main & Advanced in an organized and progressive way. Free Download Problems in Physical Chemistry by Narendra Avasthi.
BOOK NAME – PROBLEMS IN PHYSICAL CHEMISTRY 
AUTHOR – NARENDRA AVASTHI
SIZE – 14.9MB
PAGES – 554
The detail of each level are as under :
1st Level: Problems based on fundamental concepts are useful for IIT-JEE (Mains) Exam.
2nd Level: Challenging problems based on twists and full applications of topics are useful for the IIT-JEE (Advanced) Exam.
3rd Level: Problems based on Comprehensions, Problems with One or More than one Correct Option, Matching Type Problems, Assertion – Reason Type Problems, and Subjective Problems (Integer Type Problems) to make the students familiar with current IIT-JEE Pattern.
Book Content
Stoichiometry
Atomic Structure
Gaseous State
Thermodynamics
Chemical Equilibrium
Ionic Equilibrium
Chemical Kinetics and Nuclear Chemistry
Electrochemistry
Dilute Solution
Solid State
Surface Chemistry
In the last, hints and solutions have also been provided wherever necessary, to save precious time of students.
Finally, we hope that my effort will cater to the needs of JEE Main & Advanced aspirants, and they will enjoy the topics covered in this book. We would feel rewarded if they achieve their goal with the help of Problems in Physical Chemistry Book.
Furthermore, all attempts have been made to make it free from errors. In the last constructive criticism and valuable suggestion from the readers are most welcome to make this effort more useful.
We also pay our sincere thanks to all the esteemed members of M/s Shri Balaji Publications in bringing out for the book Problems in Problems in Physical Chemistry by Narendra Avasthi in such an excellent form.
Shri Balaji Publications is a publishing house that has made its mark in the publishing field in a short time. The company already has many academic titles to its credit. Their publications include Books for Competitive Exams, Books for Various School Boards, and Books for Children's Learning. Some books published by them are Advanced Problems In Organic Chemistry For JEE, Solution Manual – Advanced Problems In Organic Chemistry For JEE, Problems In Inorganic Chemistry, Problems In Physical Chemistry For JEE Main and Advanced, Elementary Problems In Organic Chemistry For JEE, and Advanced Problems In Physics For JEE.
SOURCE:- UNKNOWN
DISCLAIMER: jigssolanki.In does no longer owns this book neither created nor scanned. We simply offer the hyperlink already to be had on the internet. If any manner it violates the law or has any troubles, then kindly mail us: jigssolanki1995@gmail.Com or Contact Us for this(hyperlink removal).
We don't aid piracy; this duplicate grows to supply for university youngsters who're financially harmful but deserve greater to examine. Thank you.
Free Download Problems in Inorganic Chemistry by V K Jaiswal
PHYSICAL CHEMISTRY MCQ WITH SOLUTION BOOK
PHYSICAL CHEMISTRY HANDWRITTEN NOTE BY DILIP SHARMA
HANDBOOK OF PHYSICAL CHEMISTRY
THE PEARSON GUIDE TO PHYSICAL CHEMISTRY FOR THE IIT JEE BY ATUL SINGHAL