Free Download Inorganic Chemistry Short Tricks and Tips. Inorganic Chemistry is the branch of Chemistry that covers the study of elements, their classifications, and trends in their physical and chemical properties. This stream of chemistry also involves the study of several inorganic compounds, properties of these compounds, and reactions with other compounds. While it is not a difficult section, aspirants of JEE usually find it hard to study and remember topics from inorganic chemistry since it involves theory and facts. Therefore, students give it less importance during JEE preparation. Free Download Inorganic Chemistry Short Tricks and Tips Book.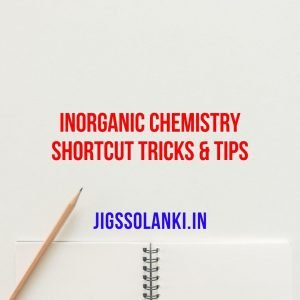 Other than analytical ability, entrance exams like JEE also examine your memorizing capacity. Hence, students should give equal importance to Inorganic Chemistry. We bring to you easy methods to study Inorganic Chemistry. Free Download Inorganic Chemistry Short Tricks and Tips.
Chemistry is subdivided into Physical, Organic, and Inorganic Chemistry. 45 questions carrying a total of 180 marks are asked and it has been noticed in previous years' papers that at least 12-13 questions come from each sub-unit on most occasions. Inorganic Chemistry, in particular, contains a lot of direct questions that, if you learn those chapters thoroughly, can be easily answered with confidence. Regular and diligent practice is required in Physical and Organic Chemistry. Some students have been scoring full marks in Chemistry in the previous years and a majority of the students have answered at least 35 correct answers out of 45. All this is possible if you structure your study plan properly. Free Download Inorganic Chemistry Short Tricks and Tips.
BOOK NAME – INORGANIC CHEMISTRY SHORT TRICKS AND TIPS
AUTHOR – 
SIZE – 2.1MB
PAGES – 44
Inorganic Chemistry Short Tricks and Tips 
Guidelines to Study Inorganic Chemistry
The best way to study for JEE is to start early and read in parts as studying everything in one take may result in huge confusion. Given below are a few tips for students who find Inorganic Chemistry difficult.
Understanding Periodic Table
Periodic Table is the base of Inorganic Chemistry. One should devise interesting and fruitful ways to study the position and properties of the elements. Creating a flow chart or a concept map to know the trends in properties is the best way to understand this topic. This will make Periodic Table interesting and fit in your mind.
Bear in mind, once you'll get through the understanding of Periodic Table, studying the behavior of elements in groups and periods will become simple.
Studying Metallurgy
This is another important topic from Inorganic Chemistry. Aspirants must devise the best approach to study and understand this topic. First of all, try to understand all metallurgical operations and their applications. And once this is done, study for the individual elements.
Bear in mind, don't memorize or mug up this topic else you won't understand anything. You should create a flow chart and follow it properly for a better understanding of this chapter.
Learn Chemical reactions
This is one of the scoring topics and the best way to learn this topic is to understand the context in which these reactions are written. You should try to make a practice of translating a word equation into chemical equations in terms of chemical formulas. Also, always balance your reactions and write and practice the formula – it is one of the best tips for understanding and memorizing formulas.
Read Coordination Compounds
This is a relatively analytical and interesting topic. It needs apt problem-solving practice. This topic comprises scoring sub-topic like Isomerism. The best way to get an in-depth understanding of this topic is through practice.
Understand Analytical Chemistry
This is the final and relatively simple topic of Inorganic Chemistry. The majority of this topic is done in the lab which gives practical knowledge to students. Therefore, it can be learned easily.
SOURCE:- UNKNOWN
DISCLAIMER: jigssolanki.In does no longer owns this book neither created nor scanned. We simply offer the hyperlink already to be had on the internet. If any manner it violates the law or has any troubles, then kindly mail us: jigssolanki1995@gmail.Com or Contact Us for this(hyperlink removal).
We don't aid piracy; this duplicate grows to supply for university youngsters who're financially harmful but deserve greater to examine. Thank you.
READ MORE
Course in Chemistry for IITJEE
Super Problems in Inorganic Chemistry By PMS Sir
Fundamentals of Inorganic Chemistry for Competitive Exams
INORGANIC CHEMISTRY MCQ WITH SOLUTION BOOK
CONCISE INORGANIC CHEMISTRY BY J D LEE
PROBLEMS AND SOLUTIONS IN INORGANIC CHEMISTRY BY V JOSHI
INORGANIC CHEMISTRY BY R L MADAN AND G D TULI
Free Download Problems in Inorganic Chemistry by V K Jaiswal
INORGANIC CHEMISTRY FOR THE IIT JEE AND NEET BY ATUL SINGHAL
COMPLETE INORGANIC CHEMISTRY HAND WRITTEN NOTE