Hello, here we provide 9 Months long term exclusive training program for NEET-2020. Students often face stress when the examinations are just around the corner. Moreover, as the exams approach, it is not the subject matter that you need, but it is the final revision that would prove to be of immense help. Revision is not just reading through the notes you made in class. Revision should include all the essential tips, be it theory or practice that would help you in attempting questions with ease.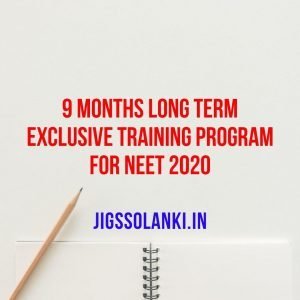 It often witnessed that students don't prepare their revision notes while going through the subject matter, and as a result, while revising, they tend to miss out on various crucial points. We, at jigssolanki, understand the need and importance of revision notes for students and hence have come up with the extensive revision notes which have been prepared by our expert faculty comprising of ex-iitians and these notes, for sure would prove to be of immense help. We bring you the revision notes on Maths, Physics, and Chemistry, which include some practical guidelines as well as some useful facts of solving some typical problems. 9 Months long term exclusive training program for NEET-2020.
Just go through 4-5 revision notes per day, and we bet you'll end up retaining maximum facts. Along with the formulae and events, we have also compiled some interactive examples and illustrations which have picked up from the previous year papers of IIT JEE and other engineering exams. We'll keep on adding more topics daily, and you are also free to share your suggestions on the notes. You may also suggest a particular subject on which you would like us to present the revision notes.
NEET 2020 examination will be conducted by National Testing Agency (NTA). The NEET 2020 examination will have one paper of 3-hour duration. NEET question paper will have a total of 180 questions of Physics, Chemistry, and Biology. 45 each in Physics & Chemistry, and 90 questions from Biology (Botany, Zoology). All items are of objective type (multiple choice questions); each question with choice of four answers, only one being correct choice. Each question carries 4 marks for every correct answer. There is also negative marking, deducting 1 mark for every wrong answer.
BOOK NAME – 9 MONTHS LONG TERM EXCLUSIVE TRAINING PROGRAM FOR NEET 2020
AUTHOR – ATOMIC ACADEMY
SIZE – 18.00MB
PAGES – 302
The first requirement to clear an exam like NEET is to be passionate about your goals and keep remembering what you will achieve after making these exams with top ranks. The next step is to be consistent with your preparation. Daily studies and practice is the essential skill you need to clear NEET.
One important thing for proper NEET preparation is your interest in subjects – Physics, Chemistry, and Biology. If you love solving problems, understanding concepts, you will want to focus on studies as much as possible, keeping all distractions away. Prepare a simple time table and try to follow it. Don't follow the schedule/time-table of others.
How many hours of study in NEET preparation? It depends on you. What's your capacity? How does your brain work? You just have to enjoy every hour that you are studying to clear NEET. It can't force. What matters a lot is the quality study that you do and not the number of hours.
NEET requires a thorough knowledge of NCERT. Although it advised following a coaching study material, you can also use reference books (Don't refer too many books, one of each subject is enough, and NCERT is a must).
The sequence of learning is essential. You should be aware of simple, basic concepts before knowing the complex ones. A new idea delivered in a way that builds upon existing topics/concepts is easier to make sense of and retain. While solving questions, apply the tricks (mostly taught by your coaching teachers). Practice a lot and learn from your mistakes.
Making notes is very beneficial in your preparation. Make your notes; don't buy or use someone else's work. The notes will be handy during revision. Include your own shortcuts and tricks. "Try to make code words: Loligo, Octopus, Sepia -LOS – mollusks with no larval stage (loss). If you have to learn many examples, make a sentence or something. One word starting with the initial letter of each example. Find out some cool relations. I bet you'd never forget Waterman invented that fountain pen." – Mahima Mehra (Lady Hardinge Medical College).
Don't neglect any topic because you find it hard to understand. Ask your teachers at coaching to resolve your doubts. Make a 'doubt copy.' Collect all doubts in it along with their solutions. You can use this to revise before NEET.
Revision is a continuous process that must happen daily in some form or another—revision not in the last few months, but every day. E.g., half an hour before sleep, go through all the things you learned during the day. Keep revising what you learn. Always revise essential points, MCQs before sleeping.
After completing the syllabus: Solve NEET past year papers and mock tests. Create an exam like environment at your home and solve the papers in the morning time, the time scheduled for the NEET exam. The objective is to have enough practice in solving problems and improving speed and accuracy.
Whenever you attempt any mock / practice test, you are likely to give wrong answers. The objective is not just to solve the test but to analyze it on the same day for mistakes and weaknesses. If you follow this strategy, you will surely improve with each test that you give during the NEET preparation.
Time management is key. You should devote enough time to each section i.e., Physics, Chemistry, and Biology. Attempt that subject first in which you are most comfortable. During the exam and before that in practice tests also, do not let any question eat up your time. Skip the question as soon as you are nowhere close to the answer. Come back to these questions after you finished the whole paper once.
Consistency and Discipline: During NEET preparation, you have to study consistently, whether that is learning concepts or solving problems. When you are consistent in doing the things you know you should do, your odds of achieving your goals will dramatically increase. Discipline is one of the key differentiators separating those who clear NEET from those who don't.
Don't take extreme pressure; it will be good for you if you go with a positive mind to the exam. Avoid silly mistakes, first in mock tests and then on the exam day. Remain calm and composed. That's the sign of a Doctor in progress!
SOURCE:- WHATSAPP
BE AWARE: jigssolanki.In does no longer owns this book neither created nor scanned. We simply offer the hyperlink already to be had on the internet. If any manner it violates the law or has any troubles then kindly mail us: jigssolanki1995@gmail.Com or Contact Us for this(hyperlink removal).
We don't aid piracy this duplicate grows to be supplied for university youngsters who're financially bad but deserve greater to examine. Thank you.



Download Your Book




PRADEEP'S FUNDAMENTALS OF PHYSICS EBOOK
DR. ALI OBJECTIVE BIOLOGY VOLUME 2
ORGANIC CHEMISTRY FAST REVISION NOTE BY ALLEN
BIOLOGY:- NCERT AT YOUR FINGERTIPS
CHEMISTRY:- NCERT AT YOUR FINGERTIPS